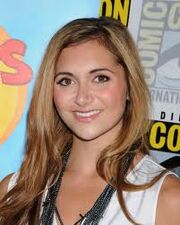 This is one of my crushes that I'm in love with: The very beautiful Alyson Stoner.

I first noticed her in some episodes of "The Suite Life of Zack & Cody."  I thought she was really cute and very talented.  Then I found out she was gonna be in a new cartoon called "Phineas and Ferb", playing a girl named Isabella Garcia-Shapiro.  I thought that was really cool that she was gonna be on, what I consider to be, the best cartoon in the world!
Then I found out she was in Eminem's music video, "Just Lose It", and let me tell you, that girl can dance.  She's also a wonderful singer and a talented actress.  She's been in such films as "Camp Rock 1 & 2", "Phineas and Ferb The Movie: Across the 2nd Dimension", and...actually, those are the only movies I know she was in. XD
Alyson Stoner is a very beautiful and very talented actress, and I hope one day, I'll be lucky enough to date her.  Heck, I'll be lucky enough just to talk to her! LOL
Ad blocker interference detected!
Wikia is a free-to-use site that makes money from advertising. We have a modified experience for viewers using ad blockers

Wikia is not accessible if you've made further modifications. Remove the custom ad blocker rule(s) and the page will load as expected.