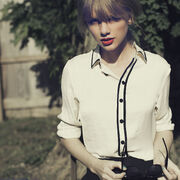 YAY Taylor is my fave singer!! :) She is from the same state as me and I am listening to her song Treacherous right now! :) That is one of my FAVES from her, I LOVE her new album RED! (Like the color of this very wiki!) (: Her songs remind me of how I feel and very impoerant special people to me in my life. :) I love how she writes and I think she has such talent. :) "A chew toy?" "It's not a chew toy!" ~ I Am A Superstar!! :) (talk) 04:22, January 19, 2013 (UTC)
Ad blocker interference detected!
Wikia is a free-to-use site that makes money from advertising. We have a modified experience for viewers using ad blockers

Wikia is not accessible if you've made further modifications. Remove the custom ad blocker rule(s) and the page will load as expected.